Venue:
Hulu Theater, New York
Date:
Saturday, 4 February
Coverage:
Reaction and highlights on the BBC Sport website & app from 11:00 GMT on Sunday, 5 February
Amanda Serrano and Alycia Baumgardner will both look to write themselves into the boxing history books as they co-headline at Madison Square Garden in New York on Saturday.
Serrano faces Mexico's WBA champion Erika Cruz in a bid to become the undisputed featherweight champion.
She would be the first Puerto Rican to achieve the feat if she were to win her 47th professional fight, which is also her 17th with a world title on the line.
Baumgardner's rapid rise to prominence continues with her first crack at becoming undisputed champion against France's Elhem Mekhaled.
The 28-year-old American has catapulted herself from obscurity to top the super-featherweight division in just 14 months.
It is the second time in less than a year an undisputed double-header has been staged inside the walls of Madison Square Garden.
Katie Taylor beat Serrano in their lightweight contest for all the belts last April , with American Franchon Crews-Dezurn having claimed all the super-middleweight crowns earlier that night.
But it is the first time two new undisputed champions will be crowned in a single night in the four-belt era.
The card also includes two rising stars in Ramla Ali and Skye Nicolson.
Ali's incredible story, of a refugee who became a model, boxer and activist, continues to captivate. The 33-year-old has invited actress Letitia Wright – who Ali hopes will play her in a movie about her life – to be ringside for her fight.
Australian prospect Nicolson, 27, is something of a sleeping agent among the big names in New York. She trains with Baumgardner and is eager to take on Serrano in the future.
"It is kind of unintentional. There are five female fights on this card," said promoter Eddie Hearn, with Sweden's Elin Cederroos also in action against undefeated American Shadasia Green.
"There is a desire to sit down with these female fighters and understand their story, understand the barriers and understand what they've overcome.
"I still think there's a little bit of the unusual perception of a female fighting.
"People are quite fascinated by that. The narrative and stories, all of them compelling."
Taylor's shadow looms large at the Garden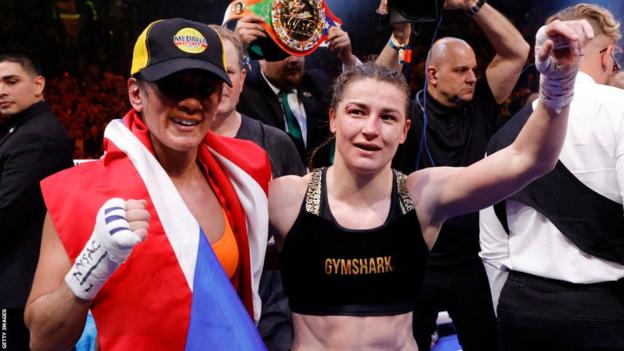 Even though she was not scheduled to arrive until fight night, Taylor has been a constant presence in New York.
The Irishwoman is expected to be ringside in the Hulu Theatre and should Serrano win, their rematch will be announced.
Serrano is the favourite against Cruz. Promoters Matchroom and their partners have already planned an intense round of media activity for next week, including news conferences in New York and Dublin.
The news cycle has been dominated by the revelation that Taylor-Serrano 2 is unlikely to happen at Croke Park.
Even Baumgardner has mentioned Taylor as her dream fight down the line.
Serrano has been peppered with questions about Taylor, much to the annoyance of her opponent Cruz.
"There's not one second that I took my mind off Erika Cruz," Serrano told BBC Radio 5 Live Boxing.
"Erika Cruz is a tough Mexican fighter who comes forward, throws a lot of punches and is a southpaw. Erika Cruz is my present and my future."
Hearn, who promotes Taylor, believes Serrano has a "dangerous" fight before her.
"I'm not saying this is more important than the Katie Taylor fight, but certainly this is a big part of her legacy," he added.
"Those fights where everyone is talking about what's next are most dangerous for the fighter.
"Because Erika Cruz is walking around right now saying: 'Are you serious? I'm the world champion. I'm coming for all the belts. I want Katie Taylor.'
"This is different for Amanda. This is not a warm-up bout. This is not an interim bout. She is a seven-division world champion and she's never been undisputed."
From obscurity to the main stage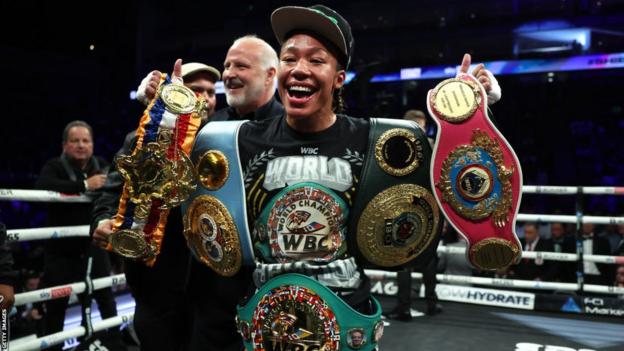 Baumgardner was 10-1 when she was drafted over from the United States to fight Terri Harper in Sheffield in November 2021.
She was unheralded and a massive underdog going into that fight, with the then-unbeaten WBC champion Harper being lined up for unification fights.
Baumgardner did a job on her, stopping her in one of the strangest knockouts of recent times.
A ferocious punch in the fourth round did for Harper who, despite being able to stand, saw the referee jump in to end the contest.
Fast forward 15 months and Baumgardner is now the WBO, IBF, WBC and Ring magazine champion.
She was an underdog last October before she fought Mikaela Mayer and crossed promotional lines to fight her domestic rival, beating her via split decision.
Beating Mekhaled and joining Terence Crawford and Claressa Shields in the American undisputed club would cap a meteoric, but well-earned, rise to the top.
"I think I allowed myself to take each dream, one dream at a time," Baumgardner said.
"I was able to see how everything could progress and took everything little by little."